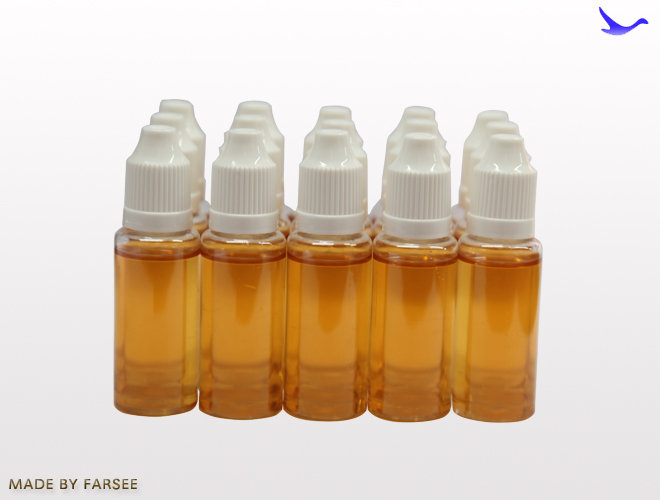 20ML E-liquid
* FARSEE specializes in E-cigarette and E-liquid researching and producing for many years.
* We supply the best E-liquid with the real cigarette smoking feeling.
* FARSEE E-liquid ALWAYS uses the best and safest materials. All of our liquid's materails are based on the food and medical standards. All materials and ingredients are tested and approved by the authoritative lab or government organization.
£ª FARSEE's liquid is very safe to vape. All E-liquid has the best flavors and nicotine hitting feel.
£ª FARSEE's liquid packing BOTTLE now has got the formal GCC certification for CPSC and FDA!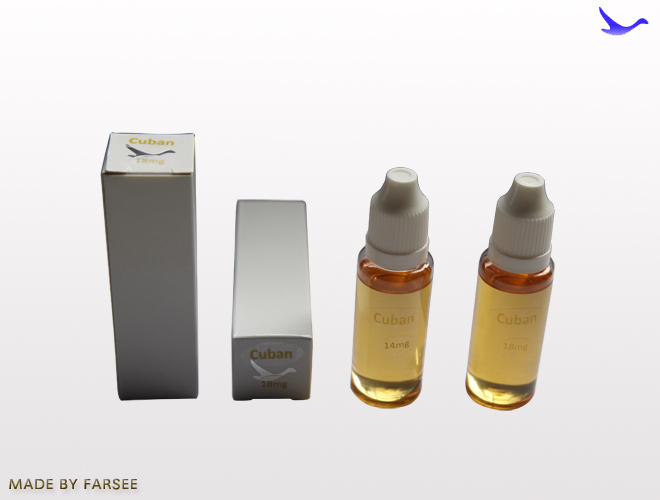 * All materials including the packaging bottle is in food or medical standard.
* Bottle has the child-proof cap.
* All kinds of flavors are supplied.
* We supply SIX nicotine levels as default:
xxHigh: 36mg; xHigh: 24mg; High:18mg;
Med: 14mg; Low: 11mg; No:0mg. (Other nicotine levels like 6mg, 12mg, etc. available for choice)
* Regular Flavors:
555,Apple,Banana,Blackberry,Blueberry,Camel,Cherry,Clove,Chocolate,Cigar(FS Cuban),Coconut,Coffee,Cream,DK-TAB,Goosberry,Grape,Hilton,Mango,Melon,Menthol,Menthol Grass, Marl.,Peach,Pipe,Red Bull,Strawberry,Tobacco(FS #3),Raspberry,Turkish,Vanilla,Virginia
* New water-pipe flavors (Shisha flavors) for choice:
Water Banana; Water Blueberry; Water Bubble Gum; Water Cantaloupe; Water Cherry; Water Citrus Mint; Water Honey; Water Apple; Water Grape; Water Grape Mint; Water Guava; Water Red Bull; Water Mango; Water Melon Mint; Water Orange; Water Peach; Water Pina Colada; Water Raspberry; Water Rose; Water Strawberry; Water Tutti Fruit; Water Watermelon; Water Watermelon Mint; Water Cappuccino; Water Coconut.
*Flavor list as in the following image: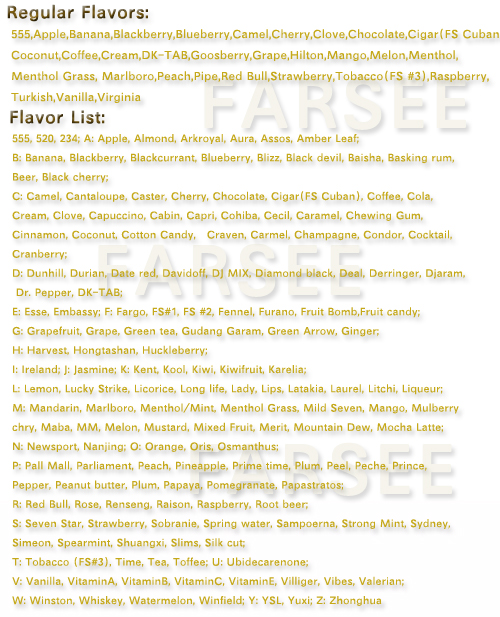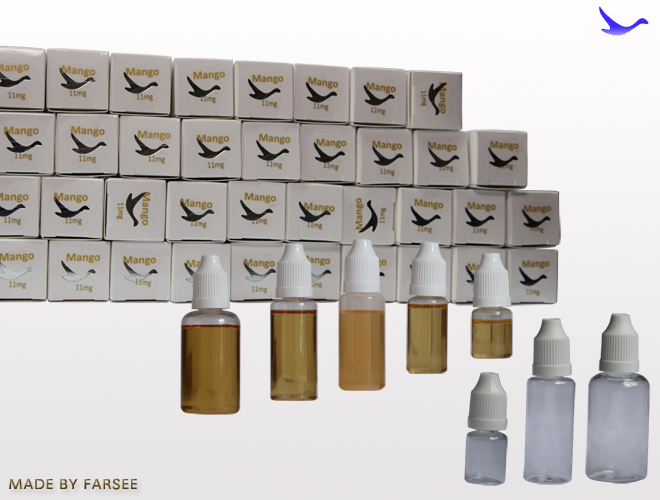 Each bottle of the e-juice is packed in a white box.
The bottle has filling needle and child-proof cap.
Except 20ml as default packing bottle, there are several other options as below:
30ML
15ML
10ML
5ML
500ML
1000ML